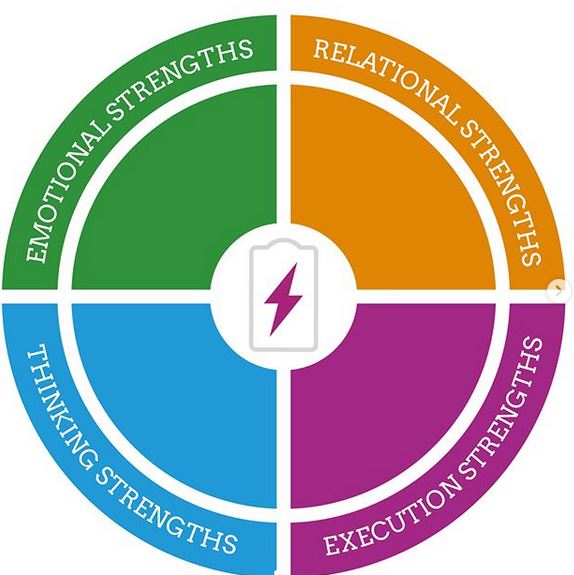 Strengthscope
Unlock your potential, Releash your strengths
Used by leading companies around the world
Most extensive strengths profiling system on the market
Only strengths profiling system with a multi-rater feature enabling co-workers to provide feedback in minutes
Online, simple to understand and apply
Wide range of tools to embed learning
Excellent reliability and validity
About Strengthscope
Strengthscope™ is a revolutionary assessment tool that provides comprehensive measurement of an individual's or team's work related strengths and talents and the extent to which these are productively applied at work. Enabling individuals, teams and organisations to optimise performance and engagement at work. It's the only strengths-focused 360º tool that enables the individual to receive feedback from up to 8 (for leaders up to 18) raters.
Benefits to leaders
Knowing and applying your strengths at work can lead to sustained high performance, confidence and engagement. StrengthscopeLeader™ is a unique leadership profiler that is designed to help you improve your effectiveness through a better understanding of your leadership strengths, risks/weaker areas, leadership behaviours and the impact of your behaviour on important organisational outcomes. Finding out what your natural talents and abilities are is powerful, but after you have done that, how do you take them to the next level? Your leadership strengths cluster around and reinforce one another, they don't operate in isolation. You will get insights that will help you to build around strengths with complementary skills.
StrengthscopeLeader™ provides leaders with a clear picture of their strengths and risks both in terms of what energises and to maximise performance. Our model of leadership is designed to form the basis of leaders' self-awareness, starting with the development of their 'leadership edge' (their purpose, values, strengths and abilities), and continuing through to skill development in four key areas (sharing vision, sparking engagement, skilfully executing and sustaining progress).
More information on StrengthscopeLeader assessments and programs: Strengths-based Leadership.
Benefits To Organizations
Organisations often succeed or fail according to the strengths of their people. Focusing on strengths enables individuals and teams to be more motivated and energised in the role that they do, which leads to more commitment, engagement, willingness to go that extra mile for the company and increased loyalty to the company. Using our strengths stimulates growth and development because learning curves tend to be steep when people get the chance to further their best skills and abilities (Peterson & Seligman, 2004).
Strengthscope assessments and strengths-based development programs enables individuals, teams and leaders to build greater awareness of their strengths, energizers and natural talent potential. So these can be productively applied at work to optimize their performance and overall engagement. Application is possible across the entire employee life cycle.
StrengthscopeEngage™ measures changes in staff engagement and productive use of strengths following on from development initiatives. StrengthscopeEngage™ provides advice on creating a positive, strengths-based culture.
StrengthscopeLeader™ allows leaders to discover what it is that makes them truly unique, and provides valuable feedback on how to bring their authentic style into their leadership role. StrengthscopeLeader™ report is the only dedicated strengths-based 360 leadership profiler on the market today.
StrengthscopeTeam™ helps you better understand what makes your team truly unique and how to drive up positive team behaviours. The result? More engaged, inclusive, productive and appreciative teams.
Strengthscope®  provides a precise and unique assessment of 24 work-based strengths, giving each employee a picture of themselves at their best and providing a framework for understanding how to bring their best to work every day. Users of the Strengthscope® system report its impact as being so profound in terms of their self-confidence, well-being and engagement with work, that the term 'life-changing' is provided regularly to us as feedback from feedback sessions and workshops.

Benefits to individuals
Strengthscope™ ensures people get clarity on their natural strengths so they can realise their full potential. It enables self-awareness and empowerment. Playing to strengths improves energy, confidence, resilience and performance.The Strengthscope™profile helps people to understand and minimise the impact of their weaknesses. Definition of Strengths: "Underlying qualities that energise us, contribute to our personal growth and lead to peak performance."
You are unique
Strengthscope is not yet another personality test, it is different to personality tests because it identifies the things that strengthen and energise us, it identifies what is unique about each individual. Each person is different, with a unique range of underlying strengths. The Strengthscope® System recognizes this and, unlike other assessment systems, doesn't oversimplify human nature by putting people into narrow personality boxes. Strengthscope does not describe behavioural preference as personality questionnaires do, but instead identifies the activities that make us feel authentic, strong and energised and where we have the potential to excel in.
Background
Strengths-based development theory is supported by over 30 years of research, the core beliefs overlap a variety of other developing theories in personal and organizational psychology including positive psychology and appreciative inquiry.
Optimising strengths increase engagement by up to 73%
Employee Performance is on average 36% higher when line managers focus their appraisals on staff's strengths and talents (Corporate Leadership Council)
Customer retention is 44% higher in companies where people are allowed to 'do what they do best' every day.
It focuses on what works, solutions, possibilites and strengths rather than on what doesn't work, problems,  and weaknesses. Being supported to use one's strengths is expected to bring about feelings of competence (Peterson & Seligman, 2004), making employees more effective in coping with job demands (Folkman & Moskowitz,2004).
When implemented in the right way it doesn't ignore weaker areas and other performance risks (including overdone strengths and psychological barriers such as poor self-confidence). In fact, it is far more powerful in helping to deal with these for a variety of reasons.
Benefits to teams
Strengthscope™ team reports facilitate complementary partnering and collaborative working based on team members' strengths. The team report spots weaker areas where the team may need external support. It encourages a positive, energised team environment. Using the tool builds appreciation of diversity and contributes to relationships of trust, openness and mutual respect.
Registred Test Status
For a tool to be termed 'psychometric', it needs to have been developed in a way that makes sure it is fit for purpose. That it is reliable, valid and that it measures people accurately. So you can trust the results you get from it. The British Psychological Society has a set of standards accepted across the world that they use to gauge whether a test can be recommended for use based on its measurement (or psychometric) properties. Strengthscope® is  the first strengths assessment in the world to achieve Registered Test Status with the UK's British Psychological Society (BPS),
Results
In my work (Human Resource Management, L&D, Coaching), I have often heard people complain about taking assessments. They didn't enjoy it or learn much and once the assessments were finished they completely forget all about them. Unlike many assessment systems, Strengthscope® is positive, pragmatic and really motivates people to develop themselves.
Are you interested in learning about your own strengths, your team's strengths, or your organization's strengths?
Contacteer mij voor meer informatie en/of een vrijblijvend verkenningsgesprek.
Your strengths/talents make you unique. Each person is different, with a unique range of underlying strengths. The chances of getting the same significant 7 strengths in the same order as anyone else is 1 in 1.7 bn! Interested to discover and develop your (work related) strengths? I work with Strengthscope, it identifies the things that strengthen and energise us. It identifies the activities that make us feel authentic, strong and  where we have the potential to excel in. Want to know more about this approach? I coach leaders and individuals with Strengthscope in Dutch or English.
The Strengthscope wheel splits your strengths into 4 clusters; Emotional, Relational, Executional and Thinking. Where do you think your most significant strengths lie? It is often an eye-opener for my clients because in our day to day lives, we often forget – or we just don't know what are strengths are and thus we don't really use our full potential, which is a shame! You will perform better and feel literally stronger and more authentic, happy and energized when you use your strengths. Unlock your potential. Play to your strengths!
De leiderschapsstijl is bepalend voor de organisatiecultuur, van alle factoren in de werkomgeving heeft de direct leidinggevende de grootste impact op het floreren van medewerkers.
Zorgen voor een positief werkklimaat, gericht op de ontwikkeling en het stimuleren van motivatie en eigenaarschap, vraagt veel van leidinggevenden. Ik help leidinggevenden (directeuren, managers en ondernemers) met het ontwikkelen van strengths-based | talentgericht leiderschap. Deze stijl van leiderschap resulteert in meer vertrouwen, energie, welzijn, verbondenheid en betere prestaties. Uit onderzoek naar de effectiviteit van interventies gebaseerd op sterktes, blijkt dat ook de medewerkersbetrokkenheid aanzienlijk kan toenemen. Mijn leiderschapsprogramma's, coaching, assessments en masterclasses zijn gebaseerd op actuele inzichten en technieken. Dit zijn o.a. bewezen effectieve methoden voor leidinggevenden om medewerkers te stimuleren in hun ontwikkeling en prestaties.
StrengthscopeLeader
more information under Strengths-based Leadership | download sample report here
Please contact me if you want to know more about the Strengths-based services such as Talent Coaching for individuals or the StrengthscopeLeader Program. kitty.schaap@coachieve.nl,  +31(6)46117697